One of the hurdles–and the heartbreaks–of tracking the impact of COVID-19 on healthcare workers, is that accurate data on mortalities is hard to come by.
These numbers probably represent a fraction of the true global death toll of healthcare workers because of factors including poor documentation of deaths in some countries (and scant recording of profession), inconsistent definitions of healthcare worker across nations, and data obfuscation.
Global HCW mortality
In July 2020, Amnesty International reported that more than 7000 healthcare workers had died from COVID-19 across 79 countries.
As of October 31, 2002, the International Council of Nurses (ICN) documented that at least 1,500 nurses have lost their lives since the pandemic began across 44 countries.
Mexico: a worst-case scenario
According to figures released in August, 97,632 nurses, doctors and other hospital employees in Mexico have tested positive for the coronavirus since the pandemic began about 17% of all the country's cases up to that point.
Nurses accounted for 42% of those infected. Doctors accounted for 27%. Other hospital employees, such as technicians, aides, and maintenance and cleaning staff accounted for 31%.
According to PAHO: U.S. and Mexico have some of the highest case counts in the world.
These two countries account for nearly 85% of all COVID deaths among health care workers in the Americas.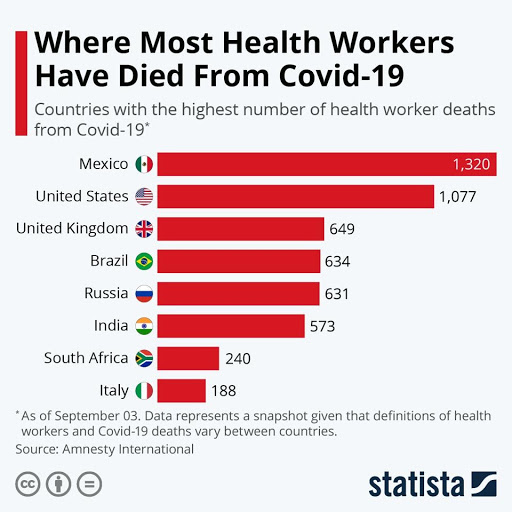 US HCW Mortalities
Because tracking of healthcare worker deaths has been inconsistent, counts vary, and most of them are probably undercounts.
Centers for Disease Control
Guardian & Kaiser Health News
USA National Nurses United (NNU) Survey
As of September 16, 2020
An estimated 1,718 health care workers, including RNs, have died of COVID-19 and related complications.
An estimated 213 registered nurses have died of COVID-19 and related complications
Just under one fourth (24.1%) of registered nurses in the United States are people of color.
Of the 213 registered nurses who have died of COVID-19 and related complications, 124 (58.2%) are nurses of color, reflecting the broader disproportionate impact of COVID-19 on communities of color in the United States.
Lost on the Frontline US Healthcare Worker Data Base (Guardian/Kaiser Health News)
On August 11th, the Guardian and KHN (Kaiser Health News) launched Lost on the Frontline, an interactive database to document every healthcare worker who has died of COVID-19.
The tally includes doctors, nurses and paramedics, as well as crucial support staff such as hospital janitors, administrators, and nursing home workers.
260 deaths were carefully investigated as of November 11.
Majority (62%) were identified as people of color.
At least 32% were reported to have inadequate personal protective equipment (PPE).
Ages ranged from 20 to 85, with 29 people (11%) under 40 and 10 (4%) under 30. 115 people–or 44%–were 60 or older.
At least 79 individuals–over 30%–were born outside the United States, and 34 were from the Philippines.
Roughly 34%–89 individuals–were nurses, but the total also includes physicians, pharmacists, first responders and hospital technicians, among others.