Face shields are plastic guards that are worn in front of your face. They are usually attached around your forehead.
Face shields can reduce the amount of droplet-spread respiratory virus you inhale.
In a simulation study, face shields were shown to reduce immediate viral exposure by 96% within 18 inches of a cough. After 30 minutes, the protective effect exceeded 80%.
When the study was repeated at the currently recommended physical distancing distance of 6 feet, face shields reduced inhaled virus by 92%.
Face shields also prevent against virus landing on your face. In the simulation study discussed above, face shields reduced the surface contamination by 97%,
Uses for a face shield
Educational settings where face-to-face interaction is key,
Face shields can allow students with learning differences the full visibility of facial expressions that can help them read and understand social cues.
Healthcare settings where face shields are needed in protecting the face from pathogen-laden droplets
At present the CDC recommends wearing masks, not face shields. But face shields are an alternative when wearing a mask is not feasible.
There is not yet data on face shields how effective face shields are for children.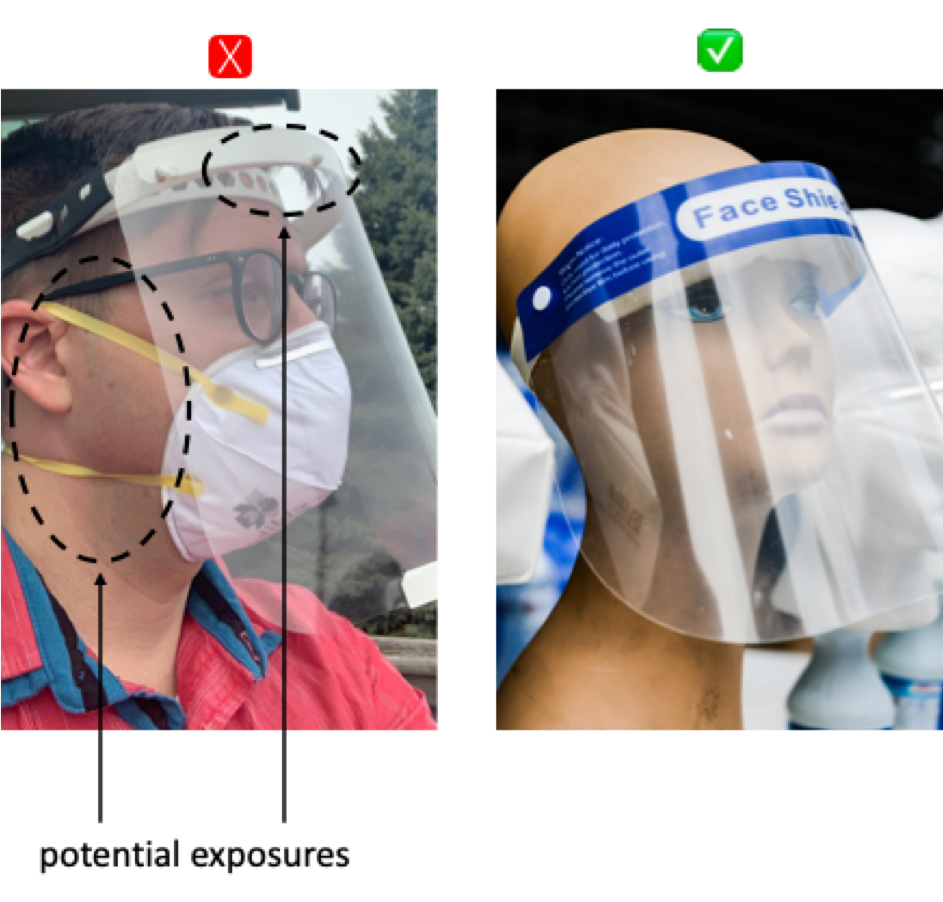 How to wear a face shield
The shield should extend below your chin in front and to the ears on the side.
There should be no exposed gap between your forehead and the shield's headpiece.
It is important that the shield wrap around your face to the ear. This reduces the likelihood that a splash could go around the edge of the shield and reach your eyes.
Face Shield Advantages
Face shields can be reused indefinitely and are easily cleaned with soap and water, or common household disinfectants.
They are comfortable to wear.
They protect your nose, mouth, and eyes.
They reduce the potential for self-infection by preventing the wearer from touching their face.
People wearing medical masks often have to remove them to communicate with others around them; this is not necessary with face shields.
Allows for visibility of facial expressions and lip movements for speech perception.
Can be worn with other face/eye PPE
May also extend the life of a protective facemask when used at the same time.
Face Shield Disadvantages
 Face shields are subject to glare and fogging which can interfere with vision.
Given many face shields are comprised of plastic materials, wearers may find their vision to be interfered with.
Some face shield models may not fit properly over some respirators or PPE.
Face shields are bulkier than goggles and safety glasses.
Some face shields may be narrower and have a poorer protection on the sides compared to face masks.