Our team of Medical Anthropologists & Epidemiologists reviews and summarizes a few key pieces of breaking COVID-19 news on a weekly basis. The latest news is on our home page. Previous COVID-19 news posts are archived here.
December 16, 2020
Vetted and collected by our Medical Anthropology & Epidemiology Team
Updated December 16, 2020

Changes in quarantine recommendations from CDC
CDC currently recommends a quarantine period of 14 days.
However, based on local circumstances and resources, and personal contingencies  like the necessity of returning to work, the following options to shorten quarantine have been deemed acceptable as harm reduction  alternatives.
People who've been in close contact with someone with Covid-19 should still quarantine. But that quarantine can end after 10 days without a coronavirus test.
Quarantine can last seven days if someone obtains a negative test result, which they're advised to get as early as day five of quarantine.
In both cases, symptom monitoring, and masking must be followed through day 14. 
CDC is still recommending that a 14-day quarantine be followed whenever possible because the incubation period for Covid-19 can be up to two weeks.
References
Centers for Disease Control Options to Reduce Quarantine for Contacts of Persons with SARS-CoV-2 Infection Using Symptom Monitoring and Diagnostic Testing December 2, 2020
Pima County releases tentative vacccine timeline
Vaccinations have begun in Pima County for Phase 1A health care workers. Vaccine distribution is being scheduled according to risk, and each health care organization has a point person who determines eligibility/risk for their employees. TMC and Banner have been assigned to distribute vaccines to health care workers throughout the community based on those assignments.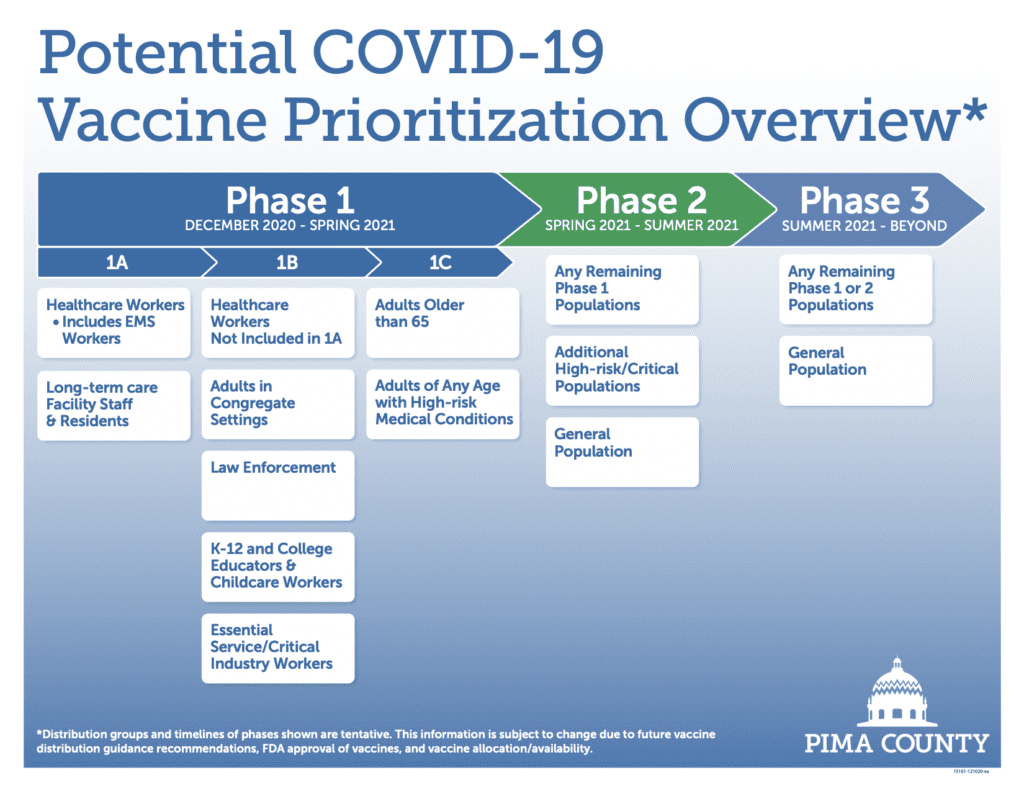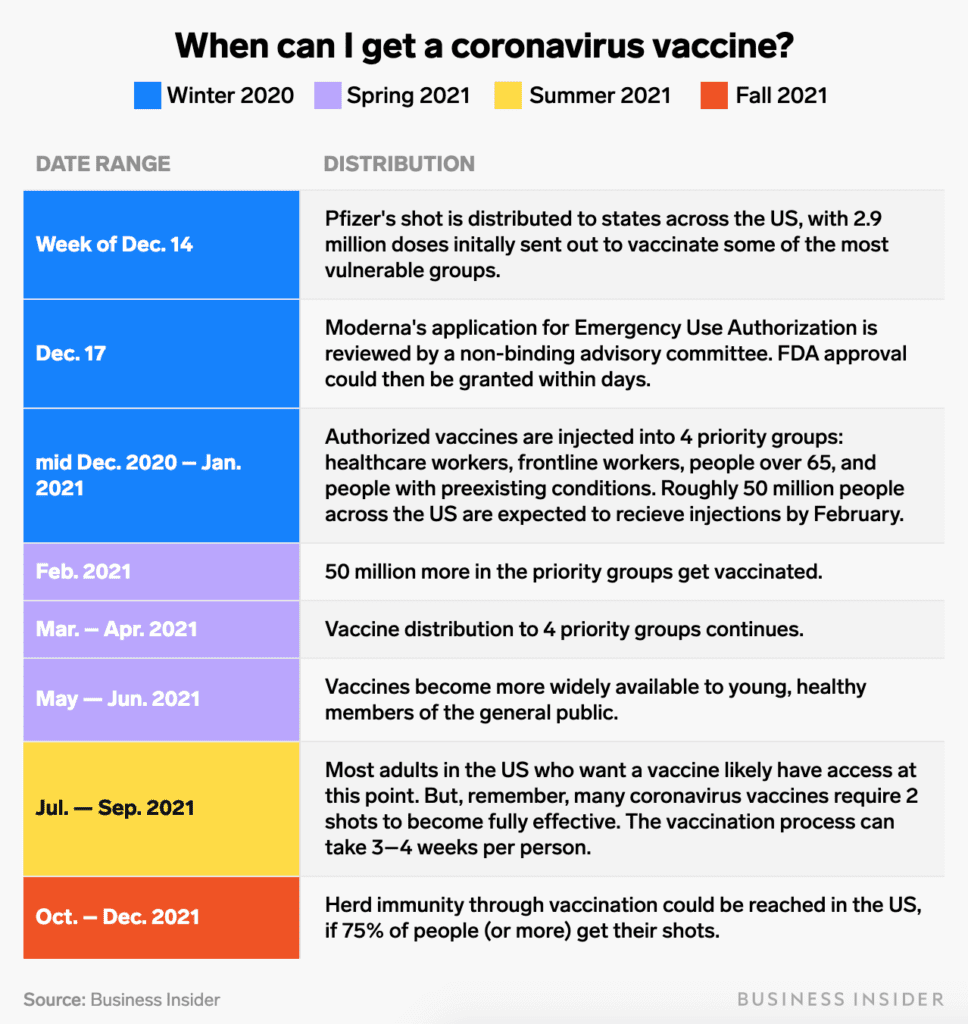 References
Pima County Public Health COVID-19 Vaccine Information
Business Insider When can I get a coronavirus vaccine? December 11, 2020
December 3, 2020
Vetted and collected by our Medical Anthropology & Epidemiology Team
Updated December 3, 2020
Cases of COVID-19 spiral out of control and appear to be increasing placing our health care system in dire straits
The Centers for Disease Control head warned that this winter may be the "most difficult time" in U.S. public health history.
The United States on Wednesday recorded its single-worst daily death toll since the pandemic began, and on a day when COVID-19 hospitalizations also hit an all-time high. The pace of loss showed no signs of slowing any time soon.
The country recorded a record 195,695 coronavirus cases and reported 100,226 hospitalizations, passing the 100,000 mark for the first time
Hospitalizations  were more than double the number at the beginning of November.
Not since spring, during the pandemic's first peak, were so many deaths reported. The high point then was 2,752 deaths on April 15. On Wednesday it was at least 2,760.
References
The Atlantic, "America Is Careening Towards a Pandemic Nightmare Scenario" December 2, 2020
The New York Times, "Grim Day in U.S. as Covid-19 Deaths and Hospitalizations Set Records" December 3, 2020
Some promising news related to immunity to COVID-19 once one has been infected
Scientists have wondered whether immunity to the SARS-CoV-2 virus that causes COVID-19 would be long-lasting.
This depends on more than the presence of antibodies  as it is only one element in immune response to pathogens.
A  rigorous but modest study (185 people studied) of those infected by the virus who did not require hospitalization suggests that immunity triggered by SARS-CoV-2 infection could last longer than previously thought.
The researchers found that people with COVID-19 seemed to have fairly robust and long-lasting immune responses.
They found that antibodies lasted well, with a small drop in levels at 6-8 months after infection. They also found that T cells levels reduced slightly, and B cells increased.
The researchers say that long-lasting antibody levels and immune memory cells could potentially lessen the severity of a re-infection if it were to occur.
References
The researchers looked at four elements of the immune response – antibody levels, memory B cells (that remember the pathogen and when exposed to it again, trigger a rapid antibody response) and T cells (CD4 and CD8, that can help B cells or kill infected cells, respectively).
Original study: Immunological memory to SARS-CoV-2 assessed for greater than six months after infection November 16, 2020
Gavi, Natural immunity to COVID-19 may be long-lasting November 20, 2020
See also: The New York Times, "Immunity to the Coronavirus May Last Years, New Data Hint" November 17, 2020
Mask mandates work to slow spread of coronavirus, two month Kansas study finds
The Kansas mask requirement went into effect on July 3, when coronavirus cases were rising across the state. But 81 counties opted out of the mandate, as permitted by state law. The other 24 counties — which account for most of the the state's population— chose to require that masks be worn in public places.
Researchers analyzed coronavirus infection rates in Kansas following a statewide mask mandate. They found that counties that chose to enforce the mandate saw their cases decrease. Counties that chose to opt out saw their cases continue to rise.
On average, the counties that required masks saw a 6% reduction in cases (calculated as a seven-day rolling average of new daily cases per capita). In contrast, the counties that opted out saw a 100% increase.
The findings were consistent with declines in coronavirus cases observed in 15 states and the District of Columbia where masks were mandated, compared with states that didn't require the face coverings.
References
National Public Radio, "Mask Mandates Work To Slow Spread Of Coronavirus, Kansas Study Finds" November 23, 2020