Basic Prevention
When trying to stay safe in your community there are a couple basic things you can do to reduce your risk of COVID-19. The first is to create and maintain a "social bubble" with others who have a similar risk tolerance, who will maintain that bubble. As members of your social bubble become vaccinated, you likely can increase the number of people within this social bubble. When outside this established group, continue to wear your mask and practice social distancing. Maintain at least 6 feet of distance between you and others. This is especially true if you are unaware of others vaccination status. 
This is because every time we breathe, speak, or exhale, droplets leave our mouths, and if someone has COVID-19, these droplets contain the virus that causes COVID-19. This is why proper distancing and air ventilation are so important. You can help maintain good ventilation by leaving windows open and using air filters if possible. If you plan to meet friends, try to do so outside.
Within your social bubble, you can use the COVID C.A.R.E. model to help you assess risk.
Container: Who is in your current circle and what are their risk factors?
Agreements: What do the people in your circle need to feel safe and what are their needs?
Risk tolerance: What is your and your container's risk tolerance?
Etiquette: What measures will you use to reduce the risk of infection (this includes masking, distancing, etc)?
When possible, you should avoid: closed spaces, crowded places, and close-contact settings.
All of these recommendations also apply to young children as they can still become ill with COVID-19 and pass on the virus to other family members (who may be more susceptible to severe disease). Before allowing your child to have a play date at another home, make sure they have the same risk tolerance that you have.
When maintaining adequate hand hygiene, washing your hands is more effective than using hand sanitizer, but hand sanitizer should be used when soap and water are not available.
Protection against COVID-19 entails doing several things in concert. No one act of protection should be viewed as a panacea!
Mask Use
Wearing a mask is effective for controlling COVID-19 transmission, protecting you and others around you.
Four criteria for a mask that fits well:
Your mask must fit your face snugly

Mind the gap – your mask should not be loose around the edges

Your mask must cover your nose, mouth, and chin

 Multiple layers help, but only when your mask fits properly
Not all masks are created equal: neck fleeces (known as "gaiter masks"), folded bandanas, and knitted masks perform poorly and do not offer much protection. Furthermore, masks with valves are not recommended, as they can spread virus-containing droplets. The Food & Drug Administration regulates masks, but only those created for medical purposes. Masks sold for non-medical purposes, then, are not regulated for the same quality – buyer beware.
Out and About
When out and about in your community, you should follow the three Cs and avoid:
Closed & poorly-ventilated spaces

Crowds

Close contact
There are varying levels of risk associated with social activities. Please carefully consider how to mitigate risks for the activities you have planned. If you plan to exercise indoors, wear a mask. If you exercise outdoors and are able to maintain social distance from others, you may take off your mask. 
The more an individual interacts with others, and the longer that interaction, the higher the risk of COVID-19 spread. Keep this in mind when planning visits to bars, restaurants, and other social settings where masks may need to be removed for some period of time.
Remember to continue to wash your hands before and after using public transportation, practice social distancing, and wear a mask.
If traveling by plane, wear a mask for the duration of your travel (even if vaccinated) except when actively eating or drinking. This includes in the airport terminal and on the plane itself. If you are sick with COVID-19, DO NOT FLY.
What to do if someone is ill
If you have symptoms and think you may have COVID-19, call your doctor ahead of time and tell them what symptoms you are experiencing before you arrive. Make sure to wear your mask and social distance from others when you arrive. If you are ill with COVID-19, stay home unless you are seeking treatment.
Do not self-medicate! In addition to not treating COVID-19, medications not approved for treatment of COVID-19 can cause severe injury. It is safe and helpful to supplement your diet with up to 5,000 units of Vitamin D each day to help alleviate symptoms of COVID-19.
If you are caring for someone sick with COVID-19, maintain 6 feet of distance whenever possible and frequently disinfect any shared surfaces. Open windows and use ventilation to increase air circulation. Additionally, stay home and isolate (for more information on isolation criteria, see CDC guidelines), use appropriate personal protective equipment, and practice good hygiene. Get tested for COVID-19 if you experience any symptoms.
For more detailed information regarding Basic Prevention, Mask Usage, Assessing Risk When Out and About, or What to do if you or someone else is ill you can read our summaries of the latest research and news (presentations will open in a new window or tab) or view our responses to frequently asked questions below.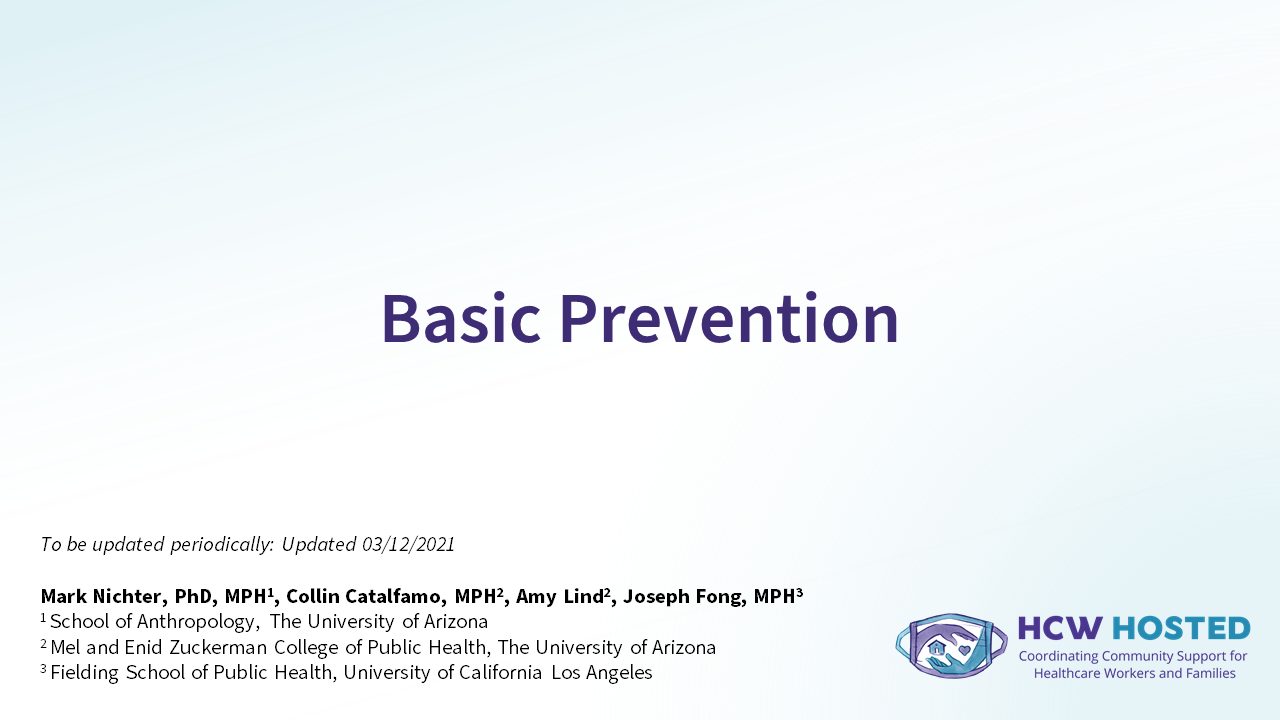 Basic Prevention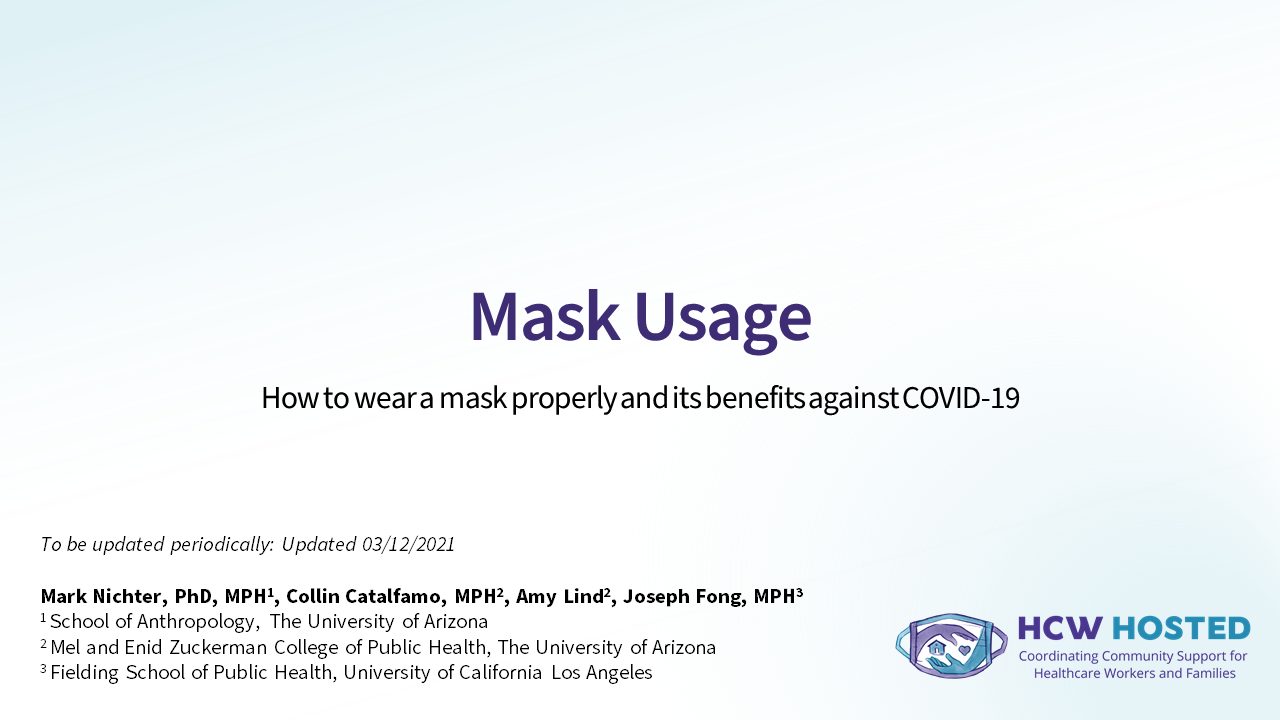 Mask Use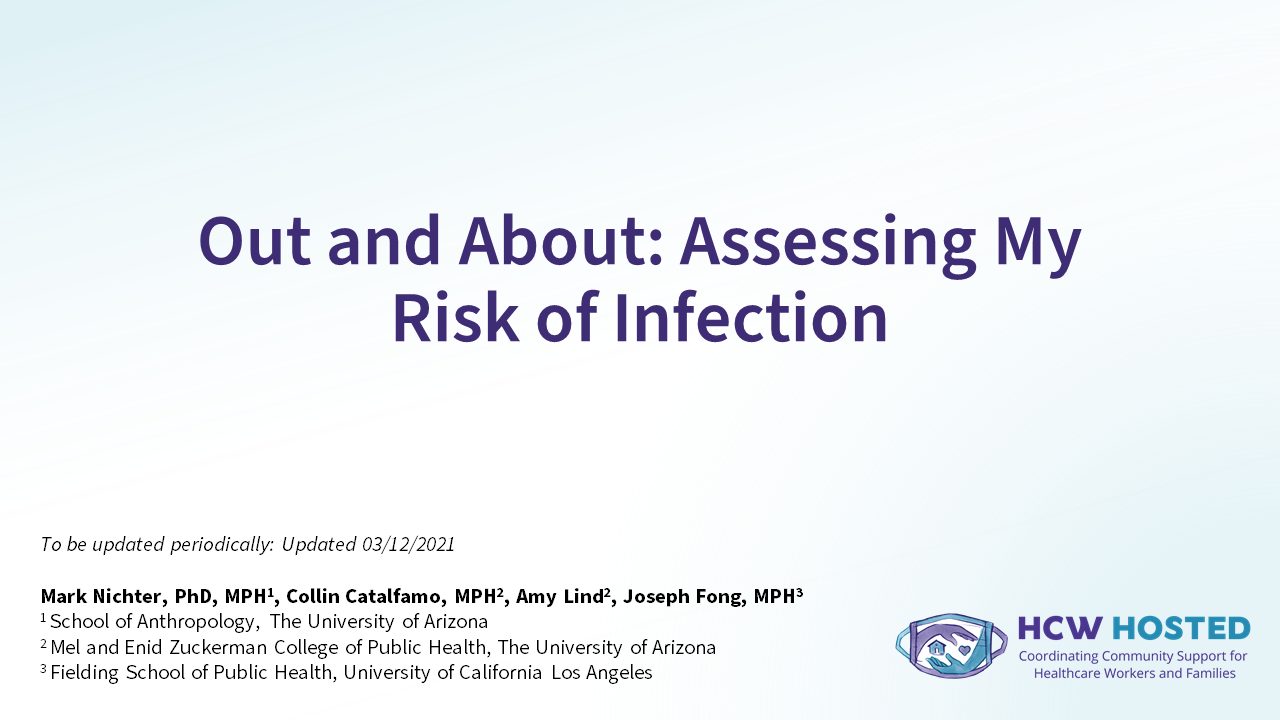 Out and About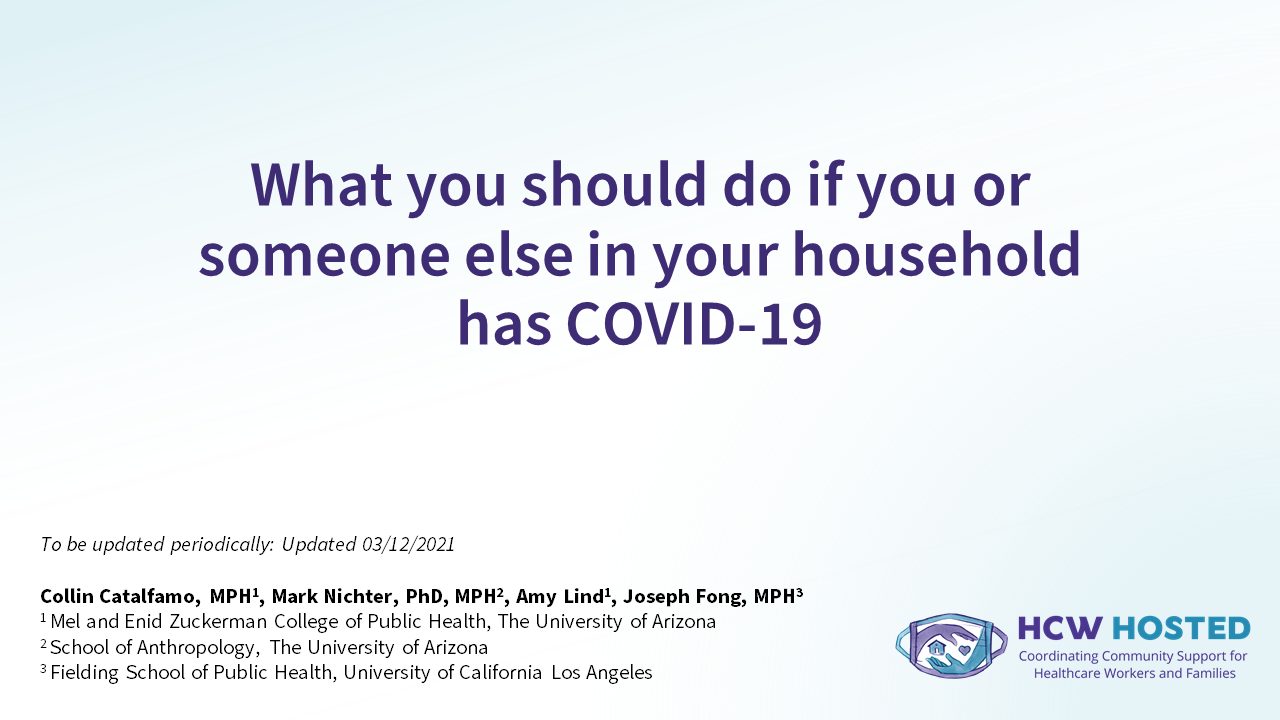 What to do if Someone is Ill
Your content goes here. Edit or remove this text inline or in the module Content settings. You can also style every aspect of this content in the module Design
Frequently Asked Questions
Can I leave my nose exposed when wearing my mask?
No…. The nose is also one of the prime entry points for the novel coronavirus.  A key protein, called the ACE2 receptor, which the coronavirus uses to enter and infect cells, is found in higher densities in the nasal membrane than the trachea, or windpipe
Will covering my nose and mouth affect my ability to breathe?
It may feel like it's harder to breathe when wearing a face covering on a regular basis, but common surgical and cloth masks have "zero impact" on oxygenation and quality of breathing, Gandhi says.
Oxygen and carbon dioxide molecules are "so tiny … they absolutely can happily and freely go through" a mas
Why do my glasses fog up?
Your glasses are fogging up because air is traveling up through the top of your mask to you eyes. One of the simplest fixes is to make sure your mask is properly fitted.
For glasses wearers, it may also be helpful to rinse your glasses with a bit of soap and water or apply other appropriate anti-fogging solutions before putting on a mask.
Can I use a mask with an exhalation valve?
NO
The CDC recommends against using such masks, which were originally created for "hot and dusty construction work." According to the CDC, "masks with one-way valves or vents allow air to be exhaled through a hole in the material, which can result in expelled respiratory droplets that can reach others. This type of mask does not prevent the person wearing the mask from transmitting COVID-19 to others."
Is wearing face shields alone enough?
NO
The CDC states that face shields are "primarily used for eye protection for the person wearing it." If you only wear a face shield, you are allowing unfiltered air to flow in and escape from the large gaps between the edges of the shield and your face.
Face shields should be worn in addition to a mask in the event that another layer of protection is needed or wanted.
Do I have to wear my mask even when I'm physically distancing?
It is believed that the novel coronavirus primarily spreads through person-to-person contactwithin six feet, leading public health experts to widely recommend that people at least maintain that distance between themselves and others.
But emerging research suggeststhat it may be possible for virus droplets to travel farther than six feet, especially in poorly ventilated areas.
Wear a mask and be safe especially in an area with poor ventilation.
Do I have to wear a mask even after I have been vaccinated?
Yes!!
Vaccinations protect you from symptomatic COVID-19 and are very effective protecting you from serious COVID-19 and death due to COVID-19. They reduce the chances of getting asymptomatic infection.
However, they do not completely protect you from COVID-19 infection which you may pass onto others even though you feel fine. To protect others as a civic duty, wear a mask when in public and around others who have yet to be vaccinated.